Image

Protect Your Family From Stinging Insects
Our Satisfaction Guarantee
30+ Years of Locally-Owned Business
Stinging Insect Control in The Triad
Do you have a nest or hive in or around your property? These nests can often be difficult to treat without the right equipment, and those inside your home or building need special attention. With up to 5,000 yellow jackets or hornets inhabiting a single nest, it's important to contact the experts at Pest-X for immediate removal. Being outside when yellow jackets are present can be uncomfortable, and for those with allergies, it could prove dangerous. If there is a nest around you, don't take the risk, call Pest-X today!
Professional Stinging Insect Control
Pest-X is the best way to eliminate stinging insects. Our certified specialists can safely inspect and identify your pest, find their nest, and use the most advanced equipment to provide the best treatment. With Pest-X, you'll get complete peace of mind knowing that your home is safe from pesky creatures.
Yellow Jacket Removal
Yellow jackets are a dangerous nuisance. They make their homes underground or in other secluded spots, and they can be riled up when lawns are mowed, trash is discarded, or during regular home maintenance. Their stings can be excruciating and repeated, making it essential to remove them by the nest when discovered. Even running away is no guarantee to safety, as the agitation may draw them nearer. Facing any nest of yellow jackets should be done with extra caution and vigilance.
Wasp Removal
Wasps are a nuisance. These stinging insects build their homes in human habitats where they can have shelter and safety. They can be aggressive, making the removal of their nests a hazardous matter. Luckily, we have the know-how to take them away quickly and safely, so people can enjoy the peace of their property once more.
Hornet Removal
Be aware of two types of hornets: the bald-faced hornet and the European hornet. Both of these insects can deliver repeated and powerful stings, so you need professional help to ensure their safe removal. Also known as black jackets or bull wasps, bald-faced hornets should be taken seriously and treated with caution.
Satisfaction Guarantee
We guarantee our work to keep those pesky wasps, hornets, and yellow jackets away. If they return to the same nests, we'll come back and take care of it - free of charge. No fuss or hassle. Just our pledge that you and your family can be saved from the aggravation of a swarm and enjoy peace of mind all season long.
Image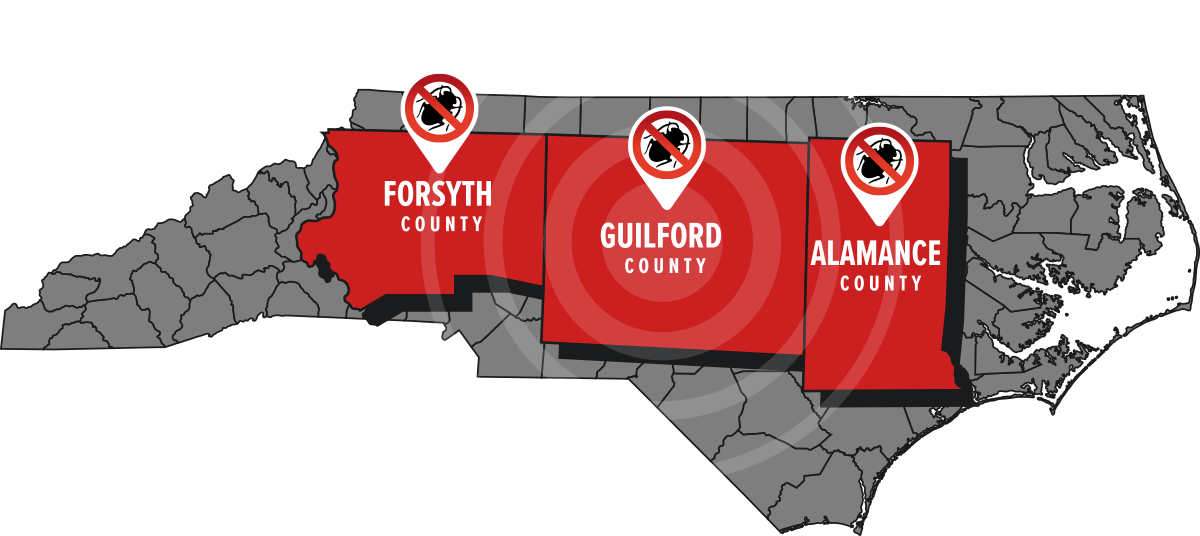 Areas We Service in the Triad
As a locally-owned and operated company, we take great pride in helping our neighbors become pest-free. We use quality products and don't stop until the job is done, ensuring you get great service every time. Check out the neighborhoods we service below, or give us a call to learn more!