Image
Prevent Pest Infestations with Oak Ridge's Premier Pest Control Experts!
Pest Control in Oak Ridge
Are pests wreaking havoc in your home in Oak Ridge? Don't worry, Pest-X Exterminating, Inc is here to help! With our same-day residential pest control services, you can say goodbye to ants, roaches, spiders, silverfish, fleas, moths, and many more pesky critters. Our team of expert exterminators is dedicated to providing you with a hassle-free experience and ensuring your home is pest-free.
Act Fast & Take Advantage of Our Same-Day Service
Pest infestations won't go away independently–they only worsen over time. That's why we offer same-day pest control services. Give us a call before 11 a.m. Monday-Friday, one of our friendly technicians will be at your home in Oak Ridge the same day, ready to tackle your pest problem head-on.
Image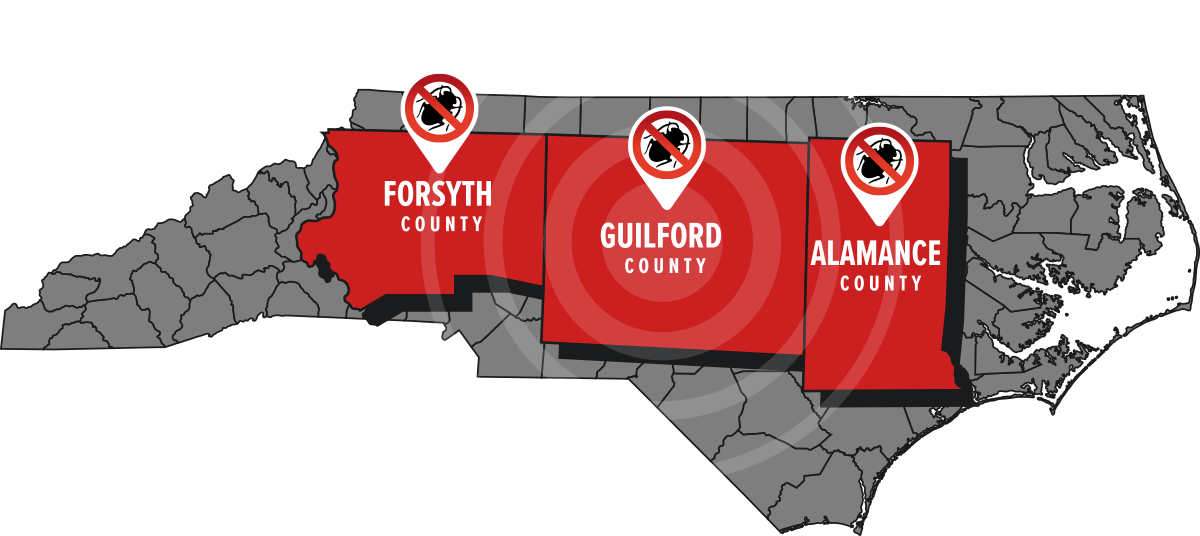 Mosquito Exterminators in Oak Ridge
Say goodbye to pesky mosquitoes in Oak Ridge, NC with our top-notch mosquito control services. At Pest-X Exterminating, Inc, we offer a comprehensive approach to protecting your property from these disease-carrying pests.
Here are just a few of the ways we rid your property of mosquitos:
A free inspection by our experienced technicians identifies potential breeding grounds for mosquitoes. 
The use of effective larvicides in targeted areas breaks the mosquito life cycle and prevents future infestations.
We use mosquito traps designed to attract and capture mosquitoes, providing an additional layer of protection for your yard.
Don't let mosquitoes and ticks rob you of the joy of spending time in your yard. Choose Pest-X Exterminating, Inc for comprehensive mosquito and tick control in Oak Ridge, NC.
Trust Your Local Exterminators
With our free inspection, targeted larvicides, and advanced mosquito traps, we have the tools and expertise to keep your family protected. Trust the local experts with a proven track record of excellence. Contact us today to schedule your free mosquito treatment and take a step towards a pest-free environment. Your family deserves it!
Termite Exterminators in Oak Ridge
As the seasons change and the weather gets warmer, you may start to notice some unwelcome guests in your home. Termites, those pesky insects that are attracted to wooden beams and furniture, can quickly wreak havoc on your property, causing thousands of dollars in damage. But fear not! We are here to provide you with top-notch termite control services in Oak Ridge.
Termite Control Tailored to Your Needs
At Pest-X Exterminating, Inc, we understand that every home is unique, and so are its termite problems. That's why we offer personalized termite treatments designed specifically for your property. Our team of experts will thoroughly inspect your home, taking the time to listen to your concerns and identify any problem areas. Based on our findings, we will create a customized treatment plan that may include specialized bait systems, liquid treatments, or a combination of both.
Wildlife Removal in Oak Ridge
Wild animals can be a real nuisance when they find their way into your home. They can enter through small openings such as attic vents or unsealed utility lines, causing havoc in your living space. At Pest-X Exterminating, Inc, we understand the risks that come with wildlife invasion. That's why we offer comprehensive wildlife control services for Oak Ridge, North Carolina residents. With our effective and humane practices, we will ensure that your home is free from animals like grey and red squirrels, copperhead snakes, bats, raccoons, and more.
Here's what you can expect when you choose us for wildlife removal:
Specialized Technology for Accurate Analysis: We stay ahead of the game with the latest technological advances in wildlife control. Our technicians use specialized cameras, drones, and scopes to accurately identify and analyze wildlife issues quickly. This helps us determine the most effective approach to resolve your pest problem.
Humane Trapping and Relocation: We prioritize the humane treatment of animals in our wildlife removal services. Our licensed wildlife control agents use live trapping methods to safely remove and relocate pests. Whether it's a squirrel, snake, bat, or any other critter, we handle the removal and relocation process with care and expertise.
24-7 Emergency Service: We understand that wildlife invasions can happen at any time, which is why we offer round-the-clock emergency services in Oak Ridge. Our team is always ready to respond to any wildlife control needs you may have. Day or night, we are just a phone call away.
Effective Exclusion Techniques: Our wildlife control service goes beyond just removing the animals that have already entered your home. We believe in ongoing prevention to ensure a critter-free environment for you and your family. Our exclusion techniques are designed to seal off any potential entry points, making it difficult for wildlife to sneak back in.
Specialized Snake Removal and Control: Snake encounters can be particularly unnerving, but with Pest-X Exterminating, you can trust that we have the expertise to handle snake removal and control. Our team is trained in identifying and safely removing snakes from your property, giving you peace of mind.
Odor Control and Dead Animal Removal: When wildlife finds its way into your home, it can leave behind unpleasant odors and even carcasses. Our wildlife control services include thorough odor control and dead animal removal, ensuring that your home is clean and free from any lingering signs of wildlife.