Image
See Results with Guaranteed Pest Control in Greensboro
Pest Control in Greensboro
It's easy to unintentionally invite pests into your home. Things like pet food on the floor or fruit on the counter can attract pests such as roaches and ants. If you find unwanted insects, don't panic! We offer pest control in Greensboro that's guaranteed to help. With over three decades of experience, there's no better option than Pest-X Exterminating.
Our pest control services protect your home from:
Spiders

Ants

Crickets

Roaches

Silverfish

Centipedes

Earwigs

Flies

Moths

And more!
Image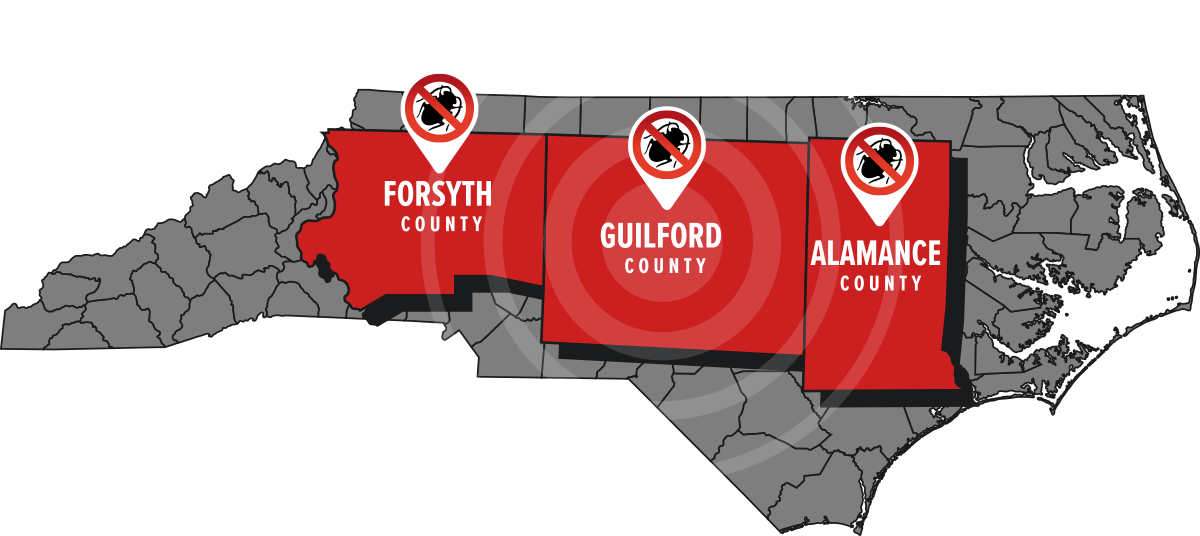 Trust the Local Pest Experts
If you've ever tried to get rid of pests on your own, you know how tricky it can be. They often hide in hard-to-reach places, like under appliances or in the attic. This makes it hard to even find an infestation. To save yourself time and money, forget the DIY treatment options and trust our pest control in Greensboro. We have over 30 years of experience in the industry, so we have the tools and knowledge needed to give you long-term protection.
When you trust our Greensboro exterminators, we will:
Determine the extent of the infestation.

Create a custom treatment plan.

Give you a free quote so there are no surprises later.

Eliminate all existing pests using safe, effective products.

Back our services with a satisfaction guarantee.
Same-Day Service with Guaranteed Results
Finding pests in your home is stressful enough, treating them should be easy. With Pest-X, you don't have to worry about anything. We offer hassle-free pest control in Greensboro that includes same-day service when you call before 11am, so you never have to wait for relief. Our services also come with a satisfaction guarantee! If you have problems after our visit, let us know and we'll re-treat for free.
Termite Control in Greensboro
Termites are every homeowner's fear and for good reason! These insects cause an annual $5 billion in damages to homes across the United States. While it's tough to protect your home on your own, it's easy with our termite control in Greensboro. We take the time to inspect your property, learn more about your specific needs, and create a custom treatment plan. This ensures we completely eliminate termites, not just the ones you can see.
Our termite control in Greensboro includes:
A free inspection to evaluate your home's current conditions.

Bait stations installed around your property to draw termites away from your home.

Liquid treatments to create a protective barrier.

Renewable yearly warranties so you don't have to worry about termites coming back.
Mosquito Control in Greensboro
When you're outnumbered by mosquitoes, it's impossible to enjoy your time outside. Instead of spraying smelly bug sprays that don't even work, choose our professional mosquito in Greensboro. We offer year-round treatments that eliminate mosquitoes at their source, giving you noticeable results in no time.
When you trust our mosquito control, we will:
Search your property for mosquito breeding areas and hiding places.

Eliminate mosquitoes at all life stages, from egg to adult.

Schedule recurring treatments to keep your yard protected.

Back our services with free re-treatments between visits.