Image
30+ Years of the Best Pest Control in Winston-Salem
Pest Control in Winston-Salem
It's easy to get the pest-free home you deserve with Pest-X Exterminating. As a locally-owned business, we're dedicated to helping our neighbors get rid of pests like roaches, spiders, and other creepy crawlies. We can help you, too! With our same-day scheduling, you'll never have to wait for the relief you deserve.
When you partner with us for pest control in Winston-Salem, we will:
Identify what pests are present and how they're sneaking into your home.

Personalize our treatment plan based on our inspection findings.

Eliminate pests using products that are proven to be effective.

Maintain communication throughout treatment to keep you up to speed.

Give you our satisfaction guarantee, which includes free re-treatments.
The Best Exterminators in the Business
At Pest-X Exterminating, we make it easy to get rid of pests. In addition to having over 30 years of experience, our team undergoes regular training to stay sharp and learn about the latest industry advances. This means you get great service every time! There's no one more reliable than our exterminators in Winston-Salem.
Image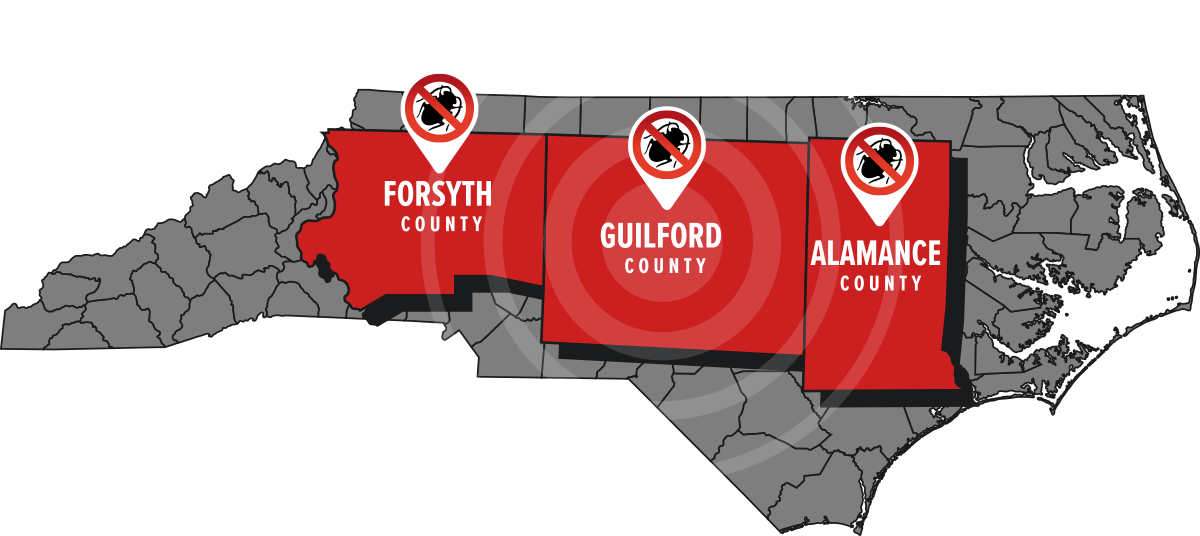 Termite Control in Winston-Salem
Termites are small, but that doesn't mean they're harmless! These pests are responsible for an estimated $5 billion in damages to homes across the United States every year. That's a scary statistic, but it's easy to protect your home and save money with our termite control in Winston-Salem. We offer same-day service to get to the source of the problem as soon as possible, preventing termites from causing any more damage.
Our termite treatment includes:
An inspection to look for signs of damage, like hollow wood or holes in drywall.

A custom treatment plan based on the severity of the infestation.

Total elimination with bait stations, liquid treatments, or a combination.

Renewable annual termite warranties for long-term protection.
Mosquito Control in Winston-Salem
Mosquitoes do more than just bite—they can also transmit illnesses like West Nile virus, Malaria, and Zika. That might be frightening, but it's easy to protect your loved ones with our mosquito control in Winston-Salem. Our treatments will dramatically reduce the number of mosquitoes hanging out in your yard, decreasing your odds of getting itchy welts. The best part is, you get relief without any smelly sprays or candles!
Our mosquito treatments include:
A thorough inspection to learn more about your property's needs.

Products that target mosquitoes in all life stages.

Recurring treatments throughout the spring and summer for long-term protection.

Free re-treatments between visits if you aren't seeing the results you need.
Guaranteed Relief from Pests
DIY solutions might seem like a tempting solution to your pest problem, but they can actually make things worse. Instead of spending your time and money on ineffective store-bought sprays or traps, choose our professional pest control in Winston-Salem. We know to eliminate even the most stubborn insects, making it feel like they were never there to begin with.