Image
Same-Day Pest Control in Kernersville
Pest Control in Kernersville
Finding a few pests here and there might not seem like a big deal, but they can easily turn into a full-blown infestation. Bugs like spiders or roaches easily sneak inside through entry points that you don't even know exist, like gaps around utility lines or vents. Luckily, it's just as easy to eliminate them with help from the Pest-X experts.
Our pest control in Kernersville protects your home from:
Spiders

Ants

Crickets

Roaches

Silverfish

Centipedes

Earwigs

Flies

Moths

And more!
Image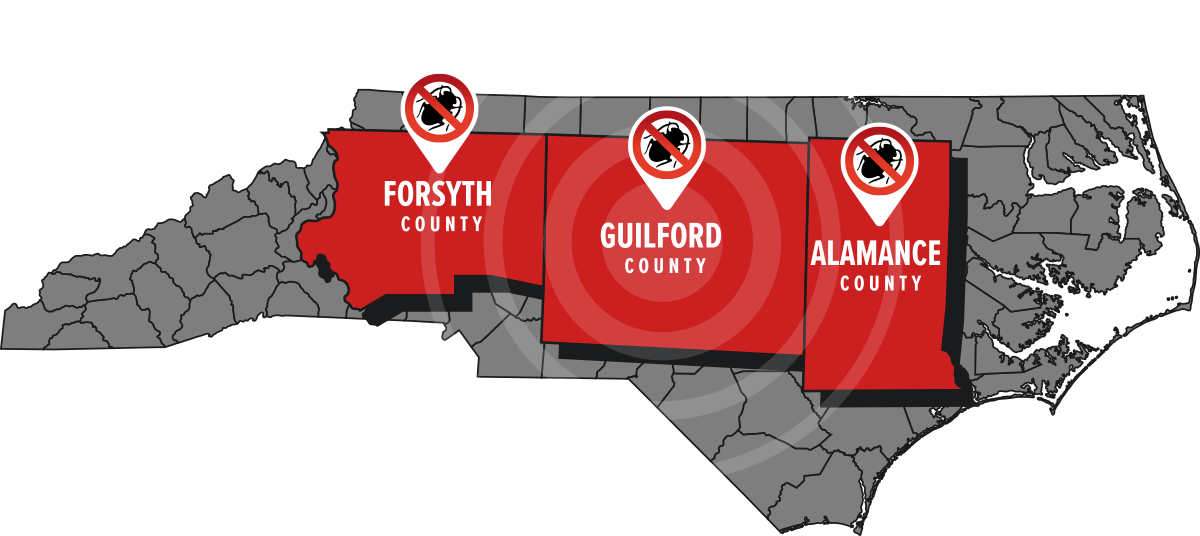 Pest Experts with 30+ Years of Experience
If you're searching for the best pest control company, you're in the right place! We've been providing pest control in Kernersville for over 30 years, so we've seen it all—there's no infestation that's too big or too intimidating for our experts. We always use the best products available, and we'll even re-treat if your pest problem continues after our visit. You can trust that our team always has your best interests at heart!
When you partner with Pest-X, our exterminators in Kernersville will:
Inspect your home to look for pests, entry points, and other problem areas.

Create a personalized treatment plan based on your specific needs.

Eliminate the existing infestation, making it feel like pests were never even there.

Keep you informed throughout the treatment process.

Give you our satisfaction guarantee for your peace of mind.
No Need to Wait with Same-Day Services
Pest infestation can happen at any time, so we're always ready to help with our same-day services. Simply give us a call before 11am and one of our experts will be at your door in just a few hours, ready to help you achieve the pest-free home you deserve. There's no faster choice for pest control in Kernersville.
Termite Control in Kernersville
Our mild winters and humid summers mean that termites are a year-round problem here in North Carolina. Instead of letting these insects turn your biggest investment into their next snack, trust our termite control in Kernersville to protect your home. We'll create a personalized treatment plan that uses bait, liquid treatments, or a combination.
Signs you have a termite infestation include:
Piles of small wings near windows or doors.

Small holes in drywall.

Cracking or bubbling paint.

Mud tunnels on the foundation.

Sagging or buckling floors.

Thin, winged insects.
Mosquito Control in Kernersville
If bug sprays or citronella candles just aren't cutting it, try our professional mosquito control in Kernersville! Our straightforward treatments will protect you from itchy bites and dangerous diseases like Malaria and Dengue, making it safe to spend time outside. All you have to do is schedule your appointment and we'll take care of everything else!
Our mosquito control includes:
An inspection to look for sources of standing water that mosquitoes are using to breed.

Products that are designed to target mosquitoes of every life stage.

Regular treatments to keep you protected throughout the spring and summer.

Free re-treatments if you don't see the results you want.