Image
The Best Insulation for Your Biggest Investment
Our Satisfaction Guarantee
30+ Years of Locally-Owned Business
Insulation Services in the Triad
Insulation is something that's in every home, but you probably don't think about it very often. It actually has a big job to do! Insulation keeps your home at the perfect temperature, and it can limit pollution, block out pests, and save you money on monthly expenses. If it's time for new insulation, it's time for Pest-X Exterminating! We offer effective insulation services for your attic!
Upgrade Your Insulation and Save Money
Up to 90% of homes in the United States are under-insulated, which means homeowners are wasting energy and money. Quality insulation stops heat exchanges, keeping your home cooler in the summer and warmer in the winter. It saves you money on your energy bill and can help you sleep better by blocking out noise from your neighbors. There's no downside to a properly insulated home!
What is TAP Insulation?
Insulation is cellulose-based and made from 87% recycled materials, making it a great eco-friendly option. Pest-X Exterminating can provide professional TAP insulation installation for your home or business. Our technicians will use a specialized TAP truck and blower to apply the cellulose-based insulation directly on top of any pre-existing insulation, forming a perfect fit wherever it is laid. TAP insulation is also safe for humans, so you're welcome to stay in your home with us while we install the material. We will remove your old insulation and clean up after ourselves after we install your new insulation. Don't wait around, give us a call today!
An Added Layer of Pest Protection
In addition to being eco-friendly and fire-retardant, TAP insulation is also a form of pest control. The fibers are treated with borate-based pesticides, which are safe for your family but eliminate insects like silverfish and cockroaches. Once the insulation is in place, it continues to protect your home 24/7. It's an easy way to stop future pest infestations from taking over.
TAP insulation can help eliminate:
Ants

Centipedes

Cockroaches

Crickets

Earwigs

Millipedes

Silverfish

Stink bugs

Termites

And more!
Insulation Experts for 30+ Years
Your home is your biggest investment, so make sure it's in good hands by partnering with Pest-X Exterminating. We've been in the business for over 30 years, so we know exactly what we're doing! We'll treat your home with the respect it deserves, and look for signs of pests as we're installing your new insulation. If we find anything worrying, we'll be sure to tell you and give you our professional treatment recommendation.
Image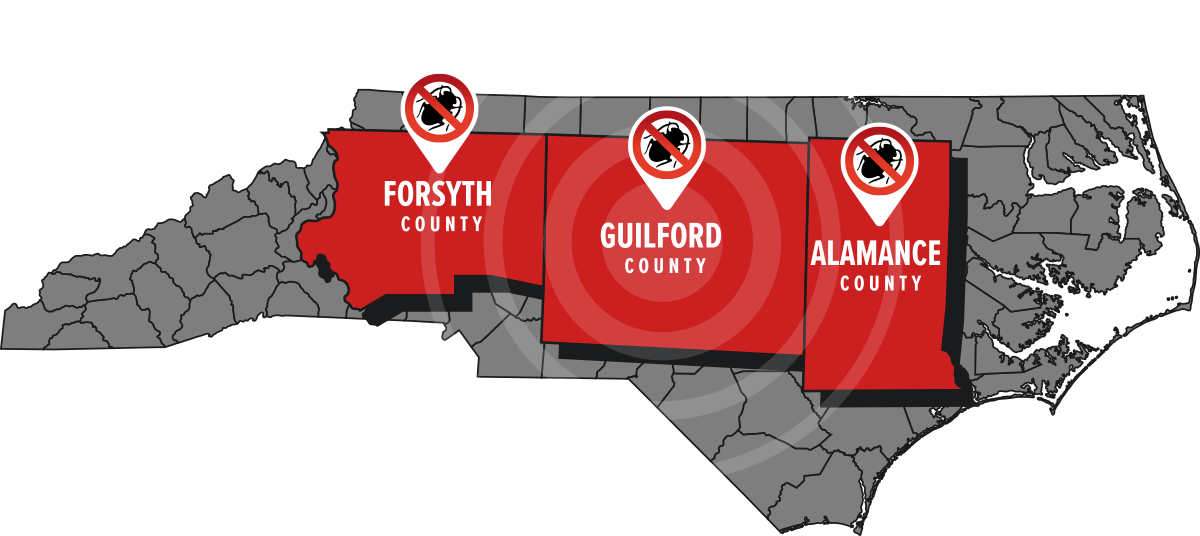 Areas We Service in the Triad
As a locally-owned and operated company, we take great pride in helping our neighbors become pest-free. We use quality products and don't stop until the job is done, ensuring you get great service every time. Check out the neighborhoods we service below, or give us a call to learn more!