Image
30+ Years of Providing Pest Control in Graham
Pest Control in Graham
Welcome to Pest-X Exterminating, your trusted local pest control services in Graham, North Carolina. With over 34+ years of experience, we are the experts you can rely on for all your pest control needs. Our team of skilled exterminators is committed to providing efficient and effective solutions to eliminate pests from your home. Here are the top services we offer in Graham:
Residential Pest Control: Our professionals are equipped with the knowledge and tools to tackle any pest problem you may encounter in your home. We will identify the source of the infestation and implement targeted treatments to ensure effective pest elimination.
Termite Control: Termites can cause extensive damage to your property. Our termite control services include thorough inspections, customized treatment plans, and proactive prevention measures to protect your home from these destructive pests.
Mosquito Control: Graham's climate creates a breeding ground for mosquitoes, making them a common nuisance. Our mosquito control services focus on reducing mosquito populations and creating a mosquito-free environment through innovative techniques and eco-friendly products.
Stinging Insect Control: Bees, wasps, and hornets can pose a threat to the safety of your family and pets. Our team will safely remove nests and implement preventive measures to keep these stinging insects away from your property.
And more: We offer a comprehensive range of pest control services tailored to meet the unique needs of our customers. Whether you are dealing with ants, roaches, rodents, or any other pests, we have the expertise to handle it.
Pest Control Services on Your Schedule
At Pest-X Exterminating, we understand the urgency of pest problems. That's why we offer same-day service to ensure a prompt response to your pest control needs. Our focus on delivering exceptional customer service has earned us a reputation as the go-to pest control company in Graham.
Image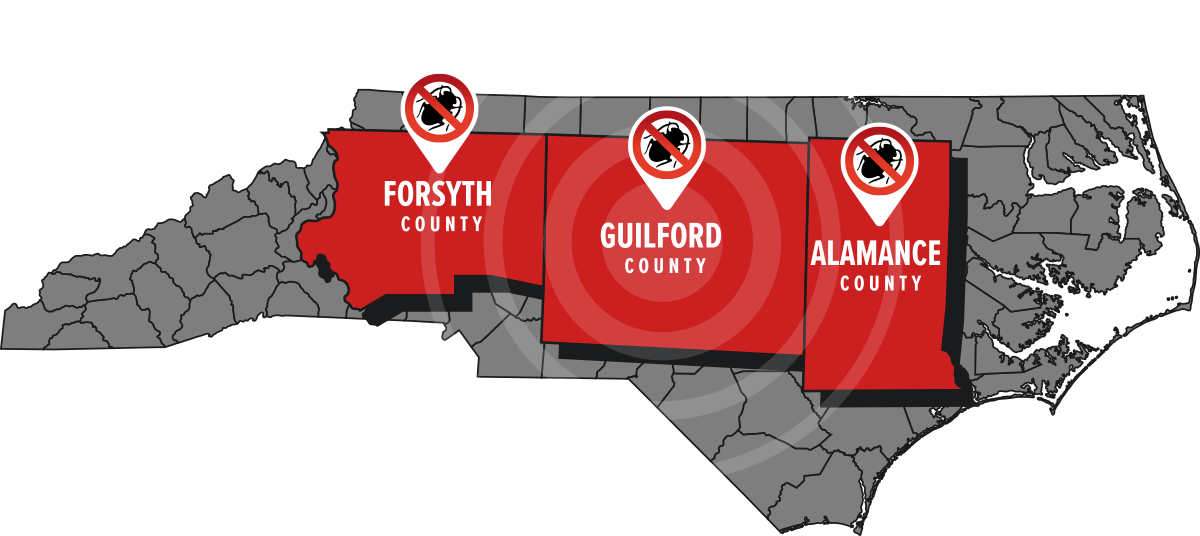 Termite Control in Graham
Are you tired of dealing with pesky termites in you home? Look no further than Pest-X Exterminating, your trusted termite exterminator in Graham. With over 34 years of experience, we know how to get rid of pests and keep them from coming back. Our comprehensive termite control service includes a range of treatments and inspections to ensure your home stays termite-free. Here's what you can expect from our top-notch service:
Comprehensive Inspections: Our speedy same-day inspections ensure that any termite infestations are quickly identified and addressed. Don't wait until the damage is extensive – let us give you peace of mind with our thorough inspections.
Termite Treatments: Our team of experts will use specialized bait systems, liquid treatments, or a combination of both to eliminate termites from your home. We tailor our treatments to your specific needs, ensuring maximum effectiveness.
Ongoing Treatments: Prevention is key when it comes to pests. That's why we offer ongoing termite control to keep these destructive pests at bay. Our renewable warranties provide lasting protection for your home.
Monitoring: We understand that Graham's humid climate creates the perfect environment for termites to thrive. That's why we offer regular monitoring to detect any signs of activity and take swift action.
Mosquito Control in Graham
Discover the hidden dangers lurking in your backyard! Mosquitoes in Graham, NC have the potential to transmit serious illnesses like West Nile virus, Malaria, and Zika. Don't let these tiny pests ruin your outdoor activities or put your family at risk. Trust Pest-X Exterminating for effective mosquito control in Graham. Here's what we offer:
Free inspection: Our expert technicians will thoroughly inspect your property to identify breeding grounds and sources of standing water.
Larvicides in targeted areas: We use specially formulated larvicides to eliminate larvae before they mature into biting adults.
Mosquito traps: Our advanced traps attract and capture adult mosquitoes, reducing their population in your yard.
Year-round relief: Mosquito season in the south can start anytime, so we offer flexible scheduling and additional treatments if needed.
Free re-treatments: If mosquitoes persist between visits, we provide free re-treatments to ensure complete elimination.
Wildlife Control in Graham
Wild animals can easily invade your home through unsuspecting openings such as unsealed utility lines and attic vents. These wildlife intruders can wreak havoc on your property, pose risks to your family, and cause extensive damage. To protect your home, belongings, and loved ones, put your trust in Pest-X Exterminating. Our comprehensive wildlife control services cover a wide range of animals including grey and red squirrels, copperhead snakes, bats, raccoons, dead animals, and more. With our effective and humane practices, we are the premier provider of wildlife control in Graham.
Why choose Pest-X Exterminating for wildlife removal:
Specialized Equipment: We utilize state-of-the-art cameras, drones, and scopes to accurately identify and analyze wildlife issues quickly. This allows us to address the problem promptly and effectively.
Humane Approach: Our licensed wildlife control agents prioritize removing pests as humanely as possible. We employ live trapping and relocation techniques to ensure the well-being of the animals.
Ongoing Support: Our wildlife control service is not a one-time solution. We offer ongoing support to prevent future infestations and provide long-term exclusion measures to keep wildlife out of your home.
Emergency Service: We understand that wildlife intrusions can happen at any time. That's why we offer 24/7 emergency service to address urgent situations promptly.
Don't let wildlife take over your home. Contact Pest-X Exterminating today for professional wildlife control and humane trapping services. With our expertise, we will ensure that your home is free from unwanted critters and give you the peace of mind you deserve.